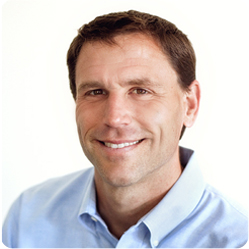 Management consultant and ICF certified Executive Coach Learn More
Eric Karpinski, The Happiness Coach, integrates 20 years of business experience into his talks about implementing and sustaining positive change within organizations. His former roles as executive, management consultant, venture capitalist and Wharton MBA provide him insights into the workings of both large and small companies.
Eric also trained as a scientist at Brown University and spent his business career at the juncture of medical science and business, easily bridging both worlds and translating between them. This understanding of science and business allows him to efficiently implement findings from top neuroscience and positive psychology research to make positive change within a company.
Eric is an ICF certified executive coach and has almost 1000 hours of one-on-one coaching experience. This gives him deep insight into individual motivation. He weaves this knowledge into his talks, leaving his audiences with the drive to implement these simple and powerful tools to initiate positive change and maintain it over the long-term.
Happiness in the workplace is often a hard sell to hardened business leaders. Yet, Eric, a former bio-tech field entrepreneur, harnesses the experience from his years of business and corporate leadership to successfully demonstrates the science behind happiness. In his presentation, Eric will convenience even the worst skeptics how to apply the latest academic research to create employees with 31% higher productivity, 37% higher sales, and 3 times more creativity. Participants will learn proven tools they can use to sustainably increase their happiness and that of their colleagues, supervisors, and teams.
There is a strong and growing body of research which shows stress can enhance performance, health and well-being. Powerful new research from GoodThinkInc and Yale shows that training a group of stressed employees to see the enhancing benefits of stress enabled them to significantly reduce stress-related health symptoms such as headaches, backaches, insomnia and hypertension and significantly increase their productivity and work performance. This highly interactive training program, including review of some online pre-training videos, contains all the essential elements used in those Yale studies. This talk will enable employees and management to take the stress they have in their life and turn it into something that is enhancing to performance, physical health and psychological growth.
"We recently brought Eric in to partner with us on an annual leadership conference we plan and execute for one of our top clients. I'll be honest, senior leadership was initially skeptical of bringing in such a 'soft' content, but after Eric's program they were impressed with the strength of the research and Eric's ability to convey it in a fun, engaging and accessible way. One leader commented, 'Best conference to date. Outside the box and hit a home run!'"
– Jennifer Dryer – Tamayo Consulting, President
"Eric's ability to synthesize and explain a decade of positive psychology research into a 2 hour presentation to our Leadership Team was masterful, engaging and fun. His message resonated across our diverse group of managers who originate from more than 20 countries. Their positive reactions and desire to implement Eric's suggestions for increasing the happiness of their teams was evident during the event and validated in our post event survey."
– Don Hurford – Parkway Corporation, Vice President Human Resources