Big Potential
HOW TRANSFORMING THE PURSUIT OF SUCCESS RAISES OUR ACHIEVEMENT, HAPPINESS AND WELL-BEING
We have long thought about potential as being a set of individual traits: your creativity, your skills, your intelligence. But thanks to exciting new research combining neuroscience and psychology with Big Data, we now know that our potential is not limited by what we alone can achieve. Instead, it is determined by how we complement, contribute to, and benefit from the abilities and achievements of people around us. Read More...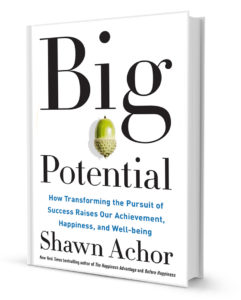 The Future of Happiness
5 MODERN STRATEGIES TO BALANCE PRODUCTIVITY AND WELL-BEING IN THE DIGITAL ERA
Why are some people able to make positive change while others remain the same? In his international bestseller, The Happiness Advantage, Harvard trained researcher Shawn Achor described why happiness is the precursor to greater success. This book is about what comes before both. Because before we can be happy or successful, we need to first develop the ability to see that positive change is possible. Only once we learn to see the world through a more positive lens can we summon all our motivation, emotion, and intelligence to achieve our personal and professional goals. Read more…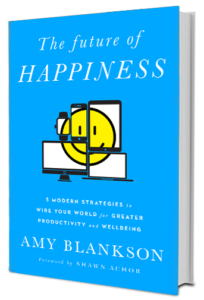 The Happiness Advantage
THE SEVEN PRINCIPLES OF POSITIVE PSYCHOLOGY THAT FUEL SUCCESS AND PERFORMANCE AT WORK
Our most commonly held formula for success is broken. Conventional wisdom holds that if we work hard we will be more successful, and if we are more successful, then we'll be happy. If we can just find that great job, win that next promotion, lose those five pounds, happiness will follow. But recent discoveries in the field of positive psychology have shown that this formula is actually backward: happiness fuels success, not the other way around. Read more...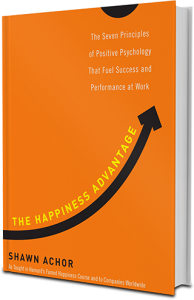 Before Happiness
THE 5 HIDDEN KEYS TO ACHIEVING SUCCESS, SPREADING HAPPINESS, AND SUSTAINING POSITIVE CHANGE
Technology - at least in theory - is improving our productivity, efficiency, and communication. Yet the proliferation of smartphones and the Internet also coincides with historically high levels of depression and life dissatisfaction. As the speed of innovation only seems to be increasing, researchers are turning attention to one of the most important questions of our time: will we continue to see declines in physical, emotional, and mental health due to our current use of technology, or can we harness technology by using new strategies to actually raise happiness, wellbeing and deep connection? Read more...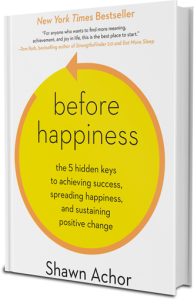 Broadcasting Happiness
THE SCIENCE OF IGNITING AND SUSTAINING POSITIVE CHANGE
We are all broadcasters. Our words can move other people from a fear-based mindset in which they see obstacles as insurmountable, to a positive mindset where they see that change is possible and take action. New research from the fields of positive psychology and neuroscience shows that small shifts to the way we communicate can create big ripple effects on business outcomes, including 31% higher productivity, 25% greater performance ratings, 37% higher sales, and 23% lower levels of stress. Peppered with case studies, Broadcasting Happiness shows how real companies are using these techniques to improve their cultures—and bottom lines. Read more…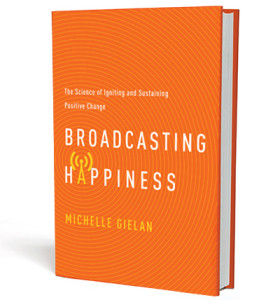 Ripple's Effect
It takes big actions to make big changes. Or does it? In Ripple's Effect, residents of an aquarium learn that sometimes a smile is all it takes to make a world of difference. Awash with charming illustrations, this delightful tale will show children that happiness is a choice they get to make for themselves. Recipient of the Mom's Choice Gold Award and digital bestseller on Amazon Kindle for Children's Books. Read more…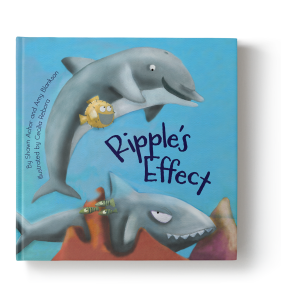 The Orange Frog
A PARABLE FOR CULTURE CHANGE
Caught between two worlds, Spark was exactly like every other frog in his pond with one notable exception. Spark emerges from a tadpole with a slight but noticeable orange spot. And this orange spot makes Spark feel uncomfortably different. What's more, Spark begins to make a disconcerting observation; when Spark does things that make him feel better (and produce more positive results) the orange spots increase. Spark is left with a difficult decision; be normal, which makes him less conspicuous, or continue doing those things that make him happier, more productive and… more orange. So begins the parable of The Orange Frog, a disarming tale that serves as the starting point for the workshop Leading Positive Results™. Read more…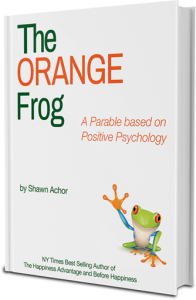 How To Be a Positive Leader: Small Actions, Big Impact
INSIGHTS FROM LEADING THINKERS ON POSITIVE ORGANIZATIONS
Positive leaders are able to dramatically expand their people's—and their own—capacity for excellence. And they accomplish this without enormous expenditures or huge heroic gestures. Here leading scholars—including Adam Grant, author of the bestselling Give and Take; positive organizational scholarship movement co-founders Kim Cameron and Robert Quinn; and thirteen more—describe how this is being done at companies such as Wells Fargo, Ford, Kelly Services, Burt's Bees, Connecticut's Griffin Hospital, the Michigan-based Zingerman's Community of Businesses, and many others. They show that, like the butterfly in Brazil whose flapping wings create a typhoon in Texas, you can create profound positive change in your organization through simple actions and attitude shifts. Read more…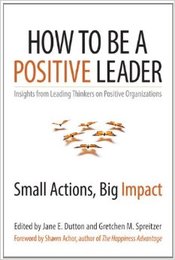 HBR Guide to Emotional Intelligence
MANAGING THE HUMAN SIDE OF WORK
Michelle Gielan and Shawn Achor contributed an essay on resilience to this guide from Harvard Business Review that looks at how emotional intelligence affects not only our well-being, but also our productivity and ability to lead. Emotional intelligence is not fixed and can be improved upon. This guide covers how to:
Determine your emotional intelligence strengths + weaknesses
Understand and manage your emotional reactions
Deal with difficult people
Make smarter decisions
Bounce back from tough times
Help your team develop emotional intelligence
and more!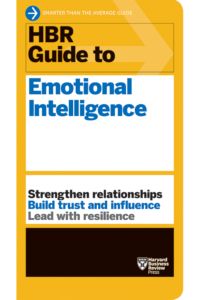 Resilience | HBR Emotional Intelligence Series
How do some people bounce back with strength from daily setbacks, professional crises, or even intense personal trauma?
Michelle Gielan and Shawn Achor contributed an essay on resilience to this guide from Harvard Business Review that looks at what resilience really means and what we can do to boost our resilience. Learn not only how to face challenges, but also how to grow from them. With strategies to beat daily stress, manage difficult people, and use emotions effectively at work, this is an uplifting and practical guide for ambitious professionals.