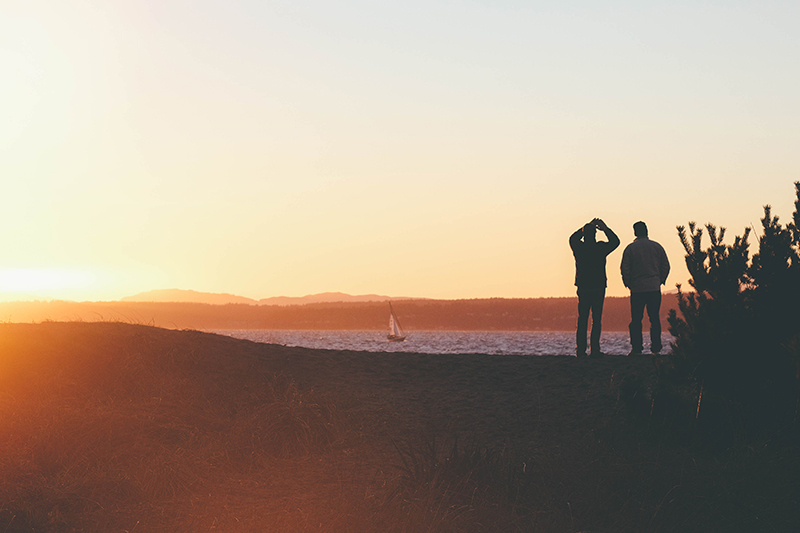 Christopher Keyes | Outside Online, February 2015
"What's new?"
Lately, this polite attempt at small talk has been my kryptonite. It may seem benign and friendly, but to me it sounds vaguely like a challenge. As in: Is your life interesting or not? I'll mentally scroll through recent days, only to see a blur of hectic mornings, school drop-offs, a lunchtime run on the same old trail, piles of e-mails, dinner, bedtime stories, toothbrushing, lights out. The lack of immediately recalled highlights always leads me to the same dreaded response—"Not much, what's going on with you?"—followed by a brief existential crisis. Is there nothing new happening with me? Am I a soulless automaton?
You get the picture. As the editor of Outside, I work at a place where I'm inundated by cool trips and inspiring adventures, but I spend a lot of hours lamenting the fact that I don't have time to embark on any of my own. Then a friend pointed me to the website of Alastair Humphreys and blew up my can't-do paradigm. An itinerant traveler, author, and motivational speaker, Humphreys preaches the gospel of microadventures, quick outings that offer "something different, something exciting—but cheap, simple, short, and on your doorstep." Spontaneous weeknight campouts with friends. Running your ten-mile commute instead of getting in the car. A full-moon hike on your favorite trail. Humphreys's blog is loaded with ideas for bite-size novel experiences to snack on all week long. Never mind getting overwhelmed by planning an ambitious weekend escape. As Humphreys rightly points out, most of us have nine-to-five obligations Monday through Friday, but they're sandwiched by five-to-nine blocks that we tend to neglect.
Inspired, I grabbed the kids after work one Friday night, bought a few slices of pizza, and marched them up a mellow peak behind our house. Olive, six, and Cash, four, complained the whole way up, but once fed we watched an epic sunset, and they were laughing the whole way down. The impromptu outing seemed to recalibrate the weekend.
The following week I walked them to school, including a ­novel route up a dry riverbed where we collected stones along the way. After our first big snowfall, I skinned up the Santa Fe ski area on a Monday morning before work. I recruited seven friends to join me for a Wednesday night run up two of Santa Fe's steepest mountains, Picacho and Atalaya, by headlamp. Atop the latter, we posed briefly with proud smiles, the city lights twinkling behind us, feeling like we were getting away with something. The day after Thanksgiving, instead of using the long weekend to relax, I took Olive and Cash two hours south to Socorro, New Mexico, to see the thousands of sandhill cranes that migrate each year to the Bosque del Apache. I've wanted to see that spectacle for ten years but could never seem to find the right window of time. We got it done in 24 hours—and squeezed in a detour to a trampoline park and a legendary diner in Albuquerque.
Each of these excursions was inexpensive and quick, yet I remember all of them distinctly. Am I happier? Probably. Studies have shown that humans are hardwired for adventure; when we make unfamiliar choices, our brains reward us by releasing dopamine, a key neurotransmitter effecting positive emotions. If nothing else, by slotting in just one or two micro­adventures per week, I've found a way to mark time instead of just logging it.
So what's new? I'm glad you asked. Last night I slept at the top of Sun Mountain.