Amy Blankson is the only person to be named a Point of Light by two Presidents (President Bush and President Clinton).  She received a Presidential appointment to serve a five-year term on the Board of Directors of the Corporation for National Service, and was one of the youngest delegates to the Presidents' Summit for America's Future.  Amy received her BA from Harvard and MBA from Yale School of Management.  In 2007, Amy co-founded GoodThink to bring the science of happiness to life for organizations and individuals. Amy brings both passion and practicality to GoodThink. She is currently doing research in partnership with Google to determine how to make positive psychology strategies stick and create sustainable positive change. She serves as a Visioneer for the Xprize Foundation for Personal Health, and was a featured professor in Oprah's Happiness course. Amy is the author of two books: Ripple's Effect and The Future of Happiness: 5 Modern Strategies to Balance Productivity and Well-being in the Digital Era.

Sign up
for Amy's #HappyTechTuesday monthly eNewsletter and get the latest strategies, apps and advice on how to thrive in the Digital Age.
"She was absolutely FANTASTIC to have!  Our nurses have more positive, outgoing, and passionate about patient care since her chat today.  We are extremely grateful to have had the pleasure of working with Amy and having her speak to our nurses. Our entire leadership team had a wonderful experience as well.  We are just so very grateful to have had the opportunity to hear Amy speak.  Thank you, thank you, we can't thank you enough!"
— Dignity Health
"Amy's keynote at the Entrepreneur's Organization Conference "One Level Up" (Munich, September 2016) delivered phenomenal take-home value for our participants. She played an integral role in our vision to create a very special learning event tailored on personality development – and allowed our member entrepreneurs to better understand how to actively influence their happiness and lead a better life. The scientific findings about positive psychology helped to understand "why" happiness is not just a genetic predisposition – and the daily habits provided the specific tools needed to transform one's life.
—Entrepreneur's Organization
"Amy gave an inspirational presentation to our legal team and SPLC leadership, leaving everyone fabulously energized and ready to make a choice for happiness."
— Southern Poverty Law Center
Book: The Future of Happiness (Spring 2017)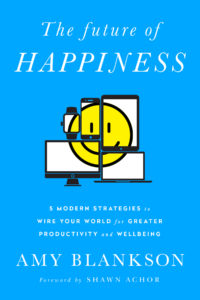 Technology—at least in theory—is improving our productivity, efficiency, and communication. Yet the proliferation of smartphones and the Internet also coincides with historically high levels of depression and life dissatisfaction.  As the speed of innovation only seems to be increasing, researchers are turning attention to one of the most important questions of our time:  will we continue to see declines in physical, emotional, and mental health due to our current use of technology, or can we harness technology by using new strategies to actually raise happiness, wellbeing and deep connection?
Instead of technology getting in the way of happiness, we have a unique opportunity to become digitally-enhanced optimists, using technology to fuel greater levels of happiness and meaning within our lives.  In The Future of Happiness, author Amy Blankson, Harvard graduate, Yale MBA, and co-founder of the global positive psychology consulting firm GoodThink, unveils five strategies that successful individuals use to not just survive—but to actually thrive—in the Digital Age. By the end of this book, you will have learned how to move from partial attention to full intention; when to fuse it [new tech] or lose it; how to hack your distractions to achieve maximum productivity and life satisfaction; and even how to finally get rid of the tech graveyard in your office drawers to create more mental and physical space to do the things you love. By rethinking when, where, why and how we use technology, not only are we able to influence our own wellbeing but also we're also able to help proactively shape the future of our communities.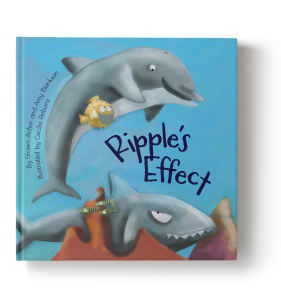 It takes big actions to make big changes. Or does it? In Ripple's Effect, residents of an aquarium learn that sometimes a smile is all it takes to make a world of difference. Awash with charming illustrations, this delightful tale will show children that happiness is a choice they get to make for themselves. Recipient of the Mom's Choice Gold Award and digital bestseller on Amazon Kindle for Children's Books. Read more…