A graduate of Harvard College and the Yale School of Medicine, Dr. Kwabena "Bobo" Blankson is a pediatrician with subspecialty training in Adolescent Medicine. He has over 13 years of military experience, and currently serves in private practice at Girls to Women Health & Wellness and the newly formed Young Men's Health & Wellness. Doctor Bobo has published in peer-reviewed journals on adolescent healthcare utilization, obesity and energy-drink consumption, including recent features on The New York Times,TIME, Huffington Post, CNN, Forbes, CBS News, and more. He is the author of The Saucier's Bones, a middle grade novel designed to teach about cooking as a health literacy tool, and was recently certified as a Culinary Medicine Specialist.  Dr. Bobo is an engaging, down-to-earth speaker who has a passion for positive medicine.  Most recently, he served as a featured professor in Oprah's Happiness OCourse.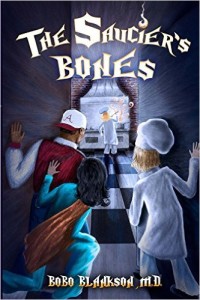 Eleven-year old named Jerry Pasta is the youngest to begin Master Chef training at Pesto's International School of Culinary Excellence in Italy. Between making friends and enemies from different countries (Manny Cotti, Lefsa Stovon, Susie Sashimi), battling in an outdoor food-fight tournament, and competing for cooking awards, Jerry must decide what type of chef and person he ultimately wants to be—original or ordinary?
What does it mean to be healthy? For instance, is a marathon runner who cries himself to sleep every night truly healthy? We live in a world where happiness and health are spoken of in absolute terms, but in practice, are far more complex. We know physical and emotional health are both important, but often prioritize physical fitness over mental fitness, to our own detriment. Recent research from the field of positive psychology reveals that human emotion, and specifically happiness, impacts every biological process in the body: how we think, what we eat, how we act, what we perceive about the world around us. As we begin to unlock these clues, we can tap into deeper levels of potential…and happiness.
In this talk, Doctor Bobo draws on his experiences as an Adolescent Medicine specialist for the largest hospital in the Department of Defense as well as his creative endeavors to bring the science of positive psychology to life through new avenues like culinary medicine and fiction. His down-to-earth affect combined with his playful spirit and deep knowledge of the subject is sure to help audiences think about their own health and happiness in entirely new ways.
Key Learning Objectives:
Uncover the origin of optimism in the brain
Explore the reciprocal nature of how happiness leads to health, and health leads to happiness.
Learn how fitness and food impact mood
Understand how environmental factors shape perception and performance
Discover how positive habits can improve health outcomes