Introducing The Happiness Advantage Virtual Course for corporate executives and business leaders
The Happiness Advantage is a new virtual course based on the book of the same name and more than a decade of research that reveals the link between positive psychology and success. It says that happy people are: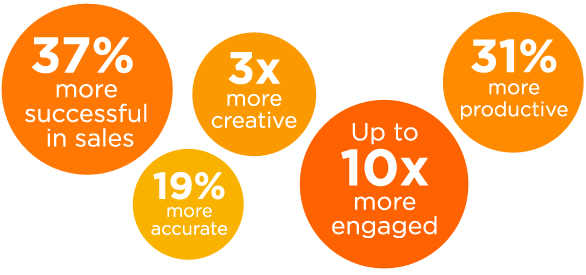 Designed in partnership with CorpU and delivered on its exclusive collaborative platform, this innovative course is based on research—including one of the largest studies of happiness and potential at Harvard and other companies like UBS and KPMG—to provide organizations with a practical methodology to increase optimism and happiness levels for positive results.
Research says we have the success formula backwards 
Optimism and positive intelligence actually fuel success, not the other way around. Our performance is enhanced—and we have a greater drive to succeed—when our brains are optimistic.
Apply the science of high achievement and happiness to your organization
Learn to flip the formula for success. By engaging the seven practical principles presented in this six-week Guided Learning Journey, your organization can increase productivity, reach peak performance, improve teamwork, accomplish better business and educational outcomes, and gain higher ROI—for the long term.
Course Structure
- 6-week Guided Learning Journey
- Video lectures by Shawn Achor
- Weekly virtual classes and breakout groups
- Series of applied experiments designed to change habits and results
Course Objectives
- Learn the science and benefits of The Happiness Advantage
- Understand current happiness level and learn how to improve it
- Develop habits to improve energy, health and performance
- Discover the impact of happiness principles in the workplace
 Intended Outcomes
- Demonstrate the Seven Happiness Advantage Principles at home and work
- Regain control of happiness and achieve a more positive mindset
- Increase overall happiness through 21-day, habit-building experiments
- Develop a framework for building new habits to improve energy, emotional and
  physical health, job performance and optimism levels
- Develop strategies for improving levels of happiness in internal and external environments
How It Works
This course is designed for groups of corporate executives, business leaders and managers. It benefits any organization who wants to increase productivity, improve teamwork, enhance performance potential, build a competitive advantage and create sustainable positive change—by creating a happier workforce.  It is beneficial for:
- Executives
- Senior leaders
- Project managers
- Change initiative leaders
- Mid-level and team leaders
- Customer service specialists
- Sales Personnel
- High Potentials
Pricing
Please use the form to the right to contact us about bringing this Corporate Virtual Course to your company.