It takes big actions to make big changes. Or does it? In Ripple's Effect, residents of an aquarium learn that sometimes a smile is all it takes to make a world of difference. Awash with charming illustrations, this delightful tale will show children that happiness is a choice they get to make for themselves.
Ripple's Effect is published by Little Pickle Press, which means it is printed on recycled paper with soy ink and is available digitally as well. There are lesson plans available for teachers and homeschooling parents to accompany the book.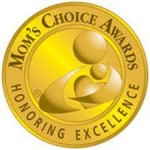 Ripple's Effect is being embraced by all who read it, including the Mom's Choice Awards.
Media Reviews

She Knows.Com
"Ripple's Effect is not the first children's book to address the subject of bullying. So what is different about this particular book? 'Ripple's Effect is a unique character education book because it is actually based on science,' says Achor….Pairing scientific research with fun characters like Snark the Shark and Ripple the Dolphin helps readers relate to the story and the concept of positive thinking. The message throughout the book is that staying positive can transform situations and change lives."
Ripple's Effect Blog Tour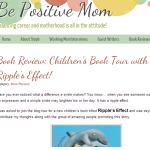 Be Positive Mom.Com
"Teaching through Ripple's story will have a lasting impression on my children, much more than merely telling my children "how" to act."
---
Moms Get Real.Com
"The book is a great way to introduce the concept of bullying to a younger audience without having to get too serious or too scary. It's brilliantly written, beautifully illustrated, and targeted at kids ages 4-8. Like I said, in this post-election era of needing to learn to get along, I think every member of Congress should read it, too."
---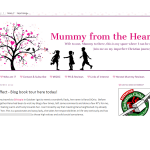 Mummy From The Heart.Com
"Imagine the possibilities, when all these empowered youngsters grow up and take the world by storm. A beautiful vision."
---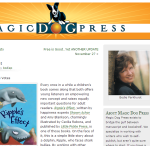 Magic Dog Press.Com
"And then one day it dawned on me that in seeking my son's happiness, I had found my own. Like Ripple, I had discovered that I held the secret of my own happiness in my own hands."
---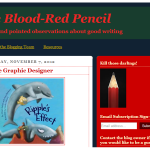 The Blood Red Pencil.Com
"I thought it would be interesting to show some of the behind-the-scenes planning of "collateral assets" used to promote a title, as well as how "branded" products are created."
---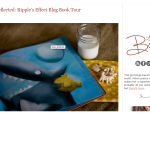 Righteous Bacon.Com
"I'm not sure what the research says, but I can tell you that in my own concerted efforts to bring happiness to our lives, only good things have followed. If I can teach my children to do the same, I can't see how it would hurt them — or anyone else."
---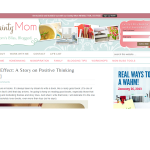 Dainty Mom.Com
"Being beautifully illustrated, the pictures helped to strengthen the story's theme, but they also helped make my son's experience more entertaining."
---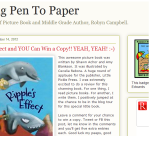 Putting Pen to Paper: Robyn Campbel
"This lovely story story made me realize how much we have to teach our kids about this subject. By providing books like this one it makes our jobs that much easier. Happiness is not out of reach. We must make sure that our kids know this."
---
Red White and Grew.Com
"What is simply marvelous about Ripple's Effect is that it shows children how the concept of "mirroring" works for us land mammals."
---
N.R. Williams.Com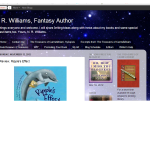 "Every parent, grandparent and teacher knows that in today's world educating children about bullies is a difficult task. Not only do we need to protect our little ones from bullies, but we need to teach them not to be a bully. Ripple's Effect does this beautifully."