In Before Happiness, Achor reveals five actionable, proven strategies for changing our lens to positive. Mastering these  strategies will help you create a renewable source of positivity, motivation, and engagement that will allow you to reach your fullest potential in everything you do.
---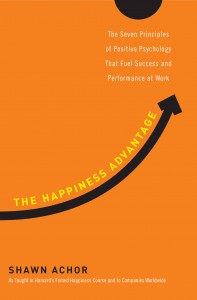 Most people believe that once they become successful, then they'll be happy. But recent discoveries in the field of positive psychology and neuroscience have shown that this formula is actually backward: Happiness fuels success, not the other way around. When we are positive, our brains become more engaged, creative, motivated, energetic, resilient, and productive at work. This isn't just an empty mantra. This discovery has been repeatedly borne out by rigorous research in psychology and neuroscience, management studies, and the bottom lines of organizations around the globe.  In The Happiness Advantage, Shawn Achor, who spent over a decade living, researching, and lecturing at Harvard University, draws on his own research—including one of the largest studies of happiness and potential at Harvard and others at companies like UBS and KPMG—to fix this broken formula. Using stories and case studies from his work with thousands of Fortune 500 executives in 51 countries, Achor explains how we can reprogram our brains to become more positive in order to gain a competitive edge at work.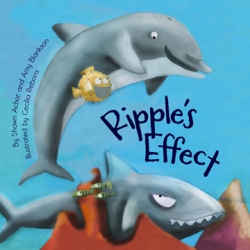 It takes big actions to make big changes. Or does it? In Ripple's Effect, residents of an aquarium learn that sometimes a smile is all it takes to make a world of difference. Awash with charming illustrations, this delightful tale will show children that happiness is a choice they get to make for themselves.  Co-authored by Shawn Achor and his sister Amy Blankson (otherwise known as The Unicorn), this book tells the tale of one brave dolphin named Ripple who teaches a shark to smile.
---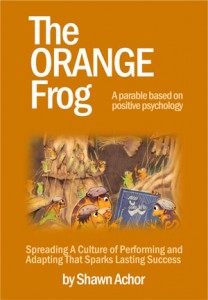 A business parable built around an orange frog who transforms an island using the principles of positive psychology.  The Orange Frog is available as a standalone book, or as part of a corporate training program.
---
GoodThink's Recommended Reading