In his international bestseller, The Happiness Advantage, Harvard trained researcher Shawn Achor described why happiness is the precursor to greater success. His latest book, New York Times Bestseller Before Happiness, is about what comes before both.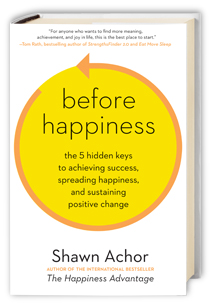 Before we can be happy or successful, we need to first develop the ability to see that positive change is possible. Only once we learn to see the world through a morepositive lens can we summon all our motivation, emotion, and intelligence to achieve our personal and professional goals.
Here, Achor reveals five actionable, proven strategies for changing our lens to positive:
The Most Valuable Reality
See a broader range of ideas and solutions by changing the details on which your brain chooses to focus
Success Mapping
Set goals oriented around the things in life that matter to you most, whether career advancement or family or making a difference in the world
The X-spot
Use success accelerants to propel you more quickly towards those goals, whether finishing a marathon, reaching a sales target, learning a language, or losing 10 pounds
Noise-Canceling
Boost the signal pointing you to opportunities and possibilities that others miss
Positive Inception
Transfer these skills to your team, your employees, and everyone around you
By mastering these strategies, you'll create an renewable source of positivity, motivation, and engagement that will allow you to reach your fullest potential in everything you do.
BUY NOW AT MAJOR RETAILERS:
Positive Reviews from Top Thinkers
"In this remarkable book, one of the leading thinkers in the field of positive psychology digs deep into the science to find practical techniques for unleashing your genius for happiness. So forget about cheap gimmicks and gooey affirmations. Instead, listen to Shawn Achor — and prepare to take notes!"
Dan Pink, bestselling author of Drive, To Sell Is Human, and A Whole New Mind
"Read this book before you buy any other self-improvement title. For anyone who wants to find more meaning, achievement, and joy in life, this is the single best place to start."
Tom Rath, bestselling author of StrengthsFinder 2.0 and Eat Move Sleep
"Shawn Achor is a positive genius who is capable of taking complex academic research and making it come to life in companies and schools across the globe."
Tony Hsieh, CEO of Zappos.com, Inc. and bestselling author of  Delivering Happiness
"Before Happiness is the book that positive psychology fans have been waiting to read. Shawn Achor, the leading light in bringing the science of happiness to work, offers his signature blend of eye-opening research insights, entertaining stories, and infectious enthusiasm. This fresh, uplifting book is filled with ideas for improving our organizations and our lives."
Adam Grant, Wharton professor and bestselling author of Give and Take
"Shawn Achor, one of our greatest positive psychologists for the workplace, has done it again. With his characteristic blend of academic rigor and twinkle in the eye, in "Before Happiness" Achor delivers a book that will change your view of happiness, of reality — and of yourself."
Susan Cain, bestselling author of Quiet: The Power of Introverts in a World That Can't Stop Talking
"In Before Happiness, Shawn Achor gets incredibly specific and practical about how to take more control of how you feel – and how you perform as a consequence.  He provides simple, scientifically sound strategies built around three key factors most of us undervalue: where we choose to put our attention, how much social support we build into our lives, and whether we view stress as a challenge rather than a threat. Bravo Shawn!"
Tony Schwartz, best-selling author of The Power of Full Engagement and Be Excellent at Anything
Shawn is one of the world's leading experts on the connection between happiness and success.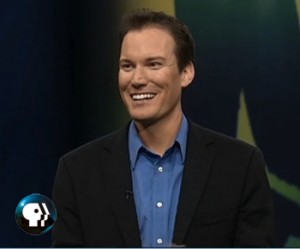 Shawn Achor is the winner of over a dozen distinguished teaching awards at Harvard University, where he delivered lectures on positive psychology in the most popular class at Harvard.
His research on happiness made the cover of Harvard Business Review, his TED talk is one of the most popular all time with over 4 million views, and his lecture airing on PBS has been seen by millions. Shawn teaches for the Advanced Management Program at Wharton Business School, and collaborates on research with Yale and Columbia University.
In 2007, Shawn founded GoodThink to share his research with the world. Subsequently, Shawn has lectured or researched in more than 50 countries, speaking to CEOs in China, school children in South Africa, doctors in Dubai, and farmers in Zimbabwe. He has spoken to the Royal Family in Abu Dhabi, doctors at St. Jude Children's Hospital, and worked with the U.S. Department of Health to promote happiness. In 2012, Shawn helped lead the Everyday Matters campaign with the National MS Society and Genzyme to show how happiness remains a choice for those struggling with a chronic illness.
Shawn graduated magna cum laude from Harvard and earned a Masters degree from Harvard Divinity School in Christian and Buddhist ethics. For seven years, Shawn also served as an Officer of Harvard, living in Harvard Yard and counseling students through the stresses of their first year. Though he now travels extensively for his work, Shawn continues to conduct original psychology research on happiness and organizational achievement in collaboration with Yale University and the Institute for Applied Positive Research.

Before Happiness Book Trailer
Book Club Guide  

1) In Before Happiness, Shawn discusses how our prior notions of reality can often cloud our perceptions of what is possible. What were your notions about happiness before reading this book? What changed after reading
the book?
2) Which of the five hidden keys resonated the most with you?  As a group, can you think of specific life examples that prove each point?
The Most Valuable Reality: See a broader range of ideas and solutions by changing the details on which your brain chooses to focus
Success Mapping: Set goals oriented around the things in life that matter to you most, whether career advancement or family or making a difference in the world
The X-spot: Use success accelerants to propel you more quickly towards those goals,
Noise-Canceling: Boost signal pointing you to opportunities/possibilities that others miss
Positive Inception: Transfer skills to your team, your employees, and everyone around you
3) In the concluding chapter of Before Happiness, Shawn provides examples of geniuses who came up with their revolutionary ideas while NOT focusing on a problem. Can you think of a time when you did this successfully? How can you find time to allow your unconscious brain to find solutions?
4) The University of Virginia study Shawn cites suggests that weights become heavier and hills appear steeper when we are negative.  What hills are you facing that you see differently based upon this book?
5) In the "Angles and Dangles" story, Shawn shared how he had to learn to reorient his perspective of reality on a submarine.  Do you ever feel like you are trying to stand up straight in a crooked world? Discuss what patterns you feel exist in the world that make standing up difficult.
6)  Shawn introduces Michelle Gielan's concept of a Power Lead: starting a conversation on a positive note to sustain positive change in your life. Have you attempted to use the power lead in your life since reading the book? If so, how has it worked? Did you notice subtle responses from those with whom you were talking?
7) How do you get someone who is resistant to positive change to become open to hearing this research?